22k Crescent Moon on Blackened Silver | Katy's 50th Birthday | Limited Edition
$415.00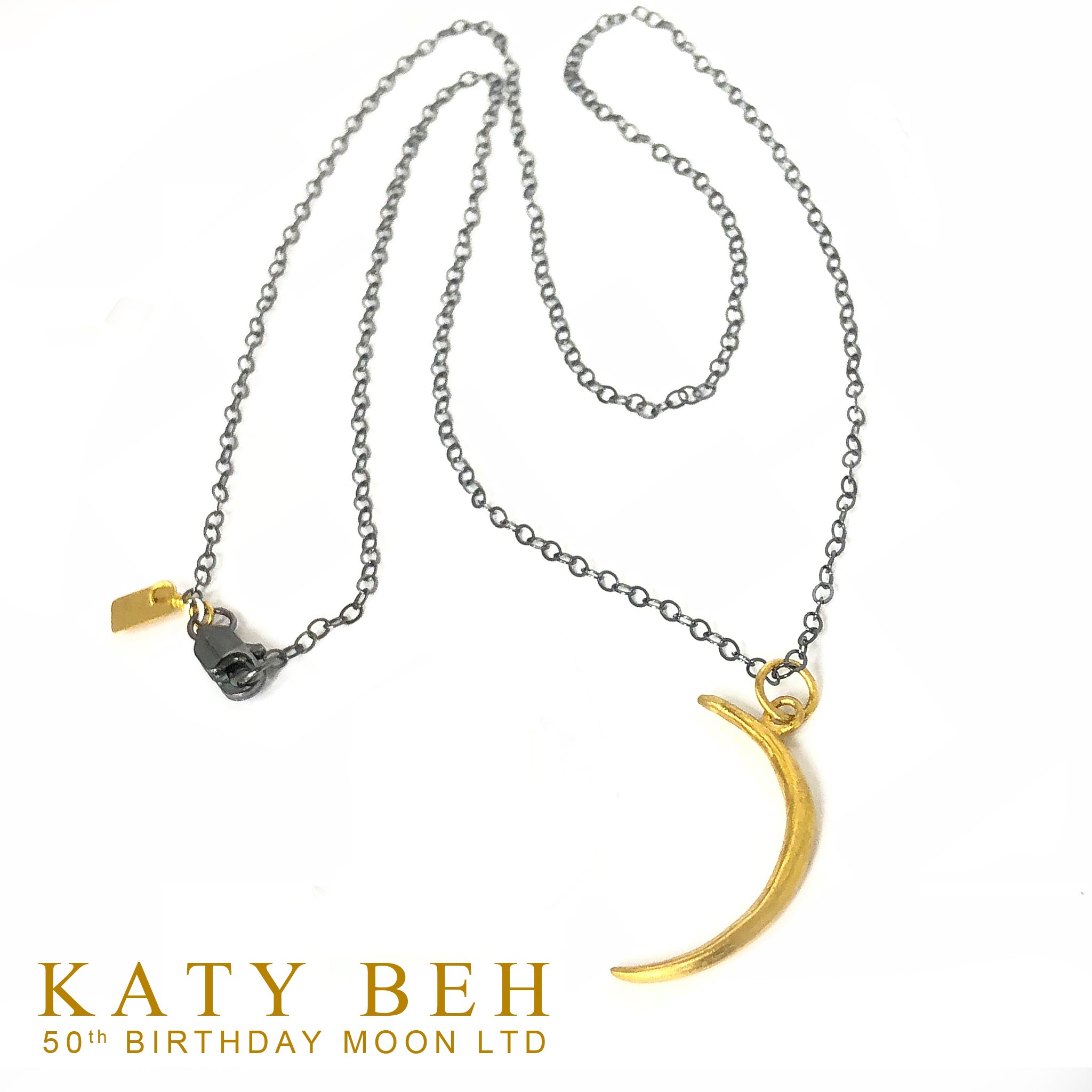 I'm turning 50 this year and I have a present for YOU!
Loved by my collectors and a never-take-it-off for me; I designed a limited edition version of my 22k yellow gold Crescent Moon on a blackened sterling silver chain to celebrate my nifty-fifty.
Elegant, subtle and each one-of-a-kind, the crescent moon is cherished in New Orleans. We are the Crescent City as an aerial view of our below sea-level home reveals. Nestled carefully between Lake Pontchartrain to the north and the fat, sassy Mississippi River to the south; a resting sliver of a moon is the Big Easy.
Yellow moon, yellow moon, yellow moon

Why you keep peeping in my window?
Only a few years before I moved to New Orleans, The Neville Brothers released Yellow Moon. I played it endlessly. Even after I moved here in 1993, it was on constant rotation in my CD player. 25 years now - she is home. I have found that the best way to describe the comfort I feel living in New Orleans is that I certainly must have lived here in another life. 
My solid 22k gold Crescent Moon glows. Hanging softly from the shimmering black chain; it's lightweight and quietly luxurious.  Touchable and familiar - a love song to my New Orleans.
I forge each moon from an itty bitty ingot of rich yellow gold that I alloy in my New Orleans studio. I even have a Special Hammer for the deed! The sterling silver chain has a steely black patina that reflects the light like stars. At a perfect 16", the delicate cable chain is strong and secure. Elegant, beautifully made and totally cool.
My Crescent Moon is entirely handmade in 22k yellow gold using the ancient techniques of classical goldsmithing.
ABSOLUTELY WORTH IT.
Piece Specs:
1.3 mm thick cable chain with lobster clasp
Moon - 1" long with loop
16" long chain
Limited Edition